Bangalore Tour
Location : In the south Indian state of Karnataka
Major Tourist Attractions : Jawaharlal Nehru Planetarium, The Fort and Tipu's Palace, Lal Bagh, Vidhana Soudha, Visveswaraya's Industrial & Technological Museum, Cubbon Park.
Best Buys : Silks, wood carvings, copperware, cane and bamboo furniture and crafts, lacquer ware, Sandal wood items, etc
Best Hangout : Ulsoor Lake, Cubbon Park, Lal Bagh
Nearby Tourist Destinations : Hampi, Hassan, Halebid, Udupi, Lalbagh, Mysore,
About Bangalore
Bangalore, the capital city of Karnataka is called the Garden City for it's fascinating blossoms and luxuriant greenery that renders an unique beauty to this charming city. Bangalore is India's 5th largest city and the momentum of its industrial and commercial growth unequalled in the country. Weather being the best feature, Bangalore with pleasant summers and bearable winters is the best option for the tourist in India.
Bangalore is a cosmopolitan city, where different cultures and customs exist. Today, the city is a bustling and diverse city, Vidhan Saudha - Bangalorewith ancient arts that flourish alongside the Silicon Plateau of India. With profusion of greenery, splendidly laid out colourful garden, the city is a sheer delight to simply walk around.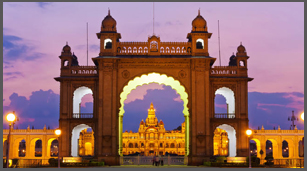 Tourist Attractions in Bangalore
Jawaharlal Nehru Planetarium
Here you can explore the fascinating world of astronomy through the shows.
The Fort and Palace of Tipu Sultan
A fascinating example of 18th century Indian military architecture. This fort constituted the stronghold of Hyder Ali and later his son Tipu Sultan, witnessing several fierce and bloody battles during their times. The fort was last used for military purposes as recently as 1888.
Lal Bagh
Trees, flowers, bushes and plants dominates this garden of Bangalore. There is a lot more to be seen at the gardens, the lake, a sit-out on a hill-top and a fascinating nursery. Lal Bagh is artistically landscaped with an eye for ordering nature's beauty without confining or stultifying it. It has expansive lush lawns, a profusion of flowerbeds, lotus pools and tinkling fountains.
Vidhana Soudha
The commanding granite building, houses both the Secretariat and State Legislature and several other offices. Built in a Neo-Dravidian style of architecture, it is one of India's most magnificent public buildings and when flood-lit on Sunday evenings, presents a truly breathtaking picture.
Cubbon Park
The park is a lush, grassy expense fringed with flower beds, shady bowers and flowering trees, where literally thousands can take a stroll without bumping into each other. In the evenings the illuminated fairy fountains light up and a restaurant in the center of the park serves light refreshments. It contains various species of trees, some of which are grown anywhere in India and have been specially imported. The trees are meticulously labelled with their scientific names and their ages. Also within the park is an aquarium with a multitude of fishes, the City Central Library which contains rare books, a children's playground, and a quaint old toy train called the Puttani Express which takes you on a ride all around the park.
Ulsoor Lake
A picturesque lake withe several tree-shaded islands in it, ideal for picnicking. Boating facilities are available and there is a beautiful swimming pool that is part of the recreational complex near the lake.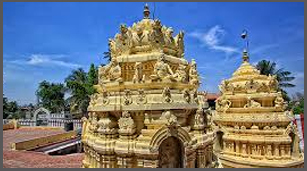 Jumma Masjid
Bull Temple - BangaloreThe oldest mosque in the city is an imposing one. Tall ornamented granite pillars adorn the elevated prayer hall.
Gangadhareshware Temple (Cave Temple)
Anothe temple built by Kempe gowda and known for its four monolithic pillars and rare idol of Agni, the God of fire. On Jan. 13/14th every year, the rays of the setting sun enter through the window, pass between the horns of the Nandi and shine on the Shivalingam, in a unique phenomenon.
Getting There
Air : Regular flights operate from Bangalore to Calcutta, Bombay, Delhi, Chennai, Hyderabad, Trivandrum, Panaji, Kochi etc. The airport is 6km from the city center.
Rail : Bangalore is connected to all major Indian cities by rail. Several super fast trains such as Shatabhi, Bridavan, Lalbagh express connect Bangalore to Chennai, The City Railway Station is the main terminal in Bangalore.
Road : Major National Highways connects Bangalore to Chennai and Mumbai Other cities and towns of the state and neighboring states are also connected by road. The Main bus terminal in the city is opposite City Railway Station.
Accommodation
Bangalore being an important tourist and growing business center, has an extensive list of hotels ranging from the luxury to deluxe and the very ordinary. Hotels in Bangalore caters to eveybody's taste and vims. There are many restaurants and fast food chains in different cadre. The accommodation available offers wide range of facilities and services, you would expect.
---