Goa Holidays Tour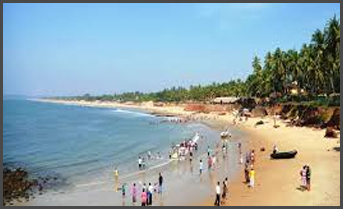 GOA has over the centuries, opened its doors and its heart to the Mauryan, Kadambas, Yadavs, Chalukyas, Dravidians, Arynas, Delhi Sultants, Vijaynagar rulers, Bahamani Sultans, Arabs, Persians and Jews. Finally in 1510 an event took place that was to leave an idelible mark on this "Pearl of the Orient". A Portuguese explorer, Afonso de Albuquerque sailed up the river Mandovi, defeated the Bijapuri army and rode into the capital triumphantly bearing a Portuguese Standard in one hand, and a Gold Crucifix in the other. A curious blending of cultures took place, affecting every sphere of Goa life, from religion to architecture, cuisine to art. The chapter of Goa's history ended 451 years later when Goa ceased to be a Portuguese colony, and became a part of the Indian Union .
Goa's over 100 kms long coastline is studded with some of the world's loveliest beaches - Calangute, Colva, Baga, Vagator and Miaramar. Golden Beaches, Blue Skies and Pale Green Hills, Silvery Sand fringed with palms - this is Goa - the land of Paradoxes, the land of Fun and Frolic, of calm and tranquility.
Goa indeed is enviously adorned. An amalgamation of religious architecture, built in the 16th century, it was a city with awe inspiring Cathedrals. The Basilica of Bom Jesus, the Church of Our Lady of Rosary, the St. Cathedral with its fourteen splendid altars, and the Convent of St. Francis of Assisi are the magnificent sites to visit. Goa BeachThe known temples are the Sri Shanta Durga at Kavlem, Shri Mangest Temple, Sri Saptakoteshwar Mukhalinga and the Drivaidian Sri Malikarju Temple at Canacona. The brief tenure of Islam has left mosque of the Namazgah and the ruins of the Safa Masjid at Ponda. A visit to the Museum of Christian Art, 12 kms from Margao in the South Goa is a must housing artifacts from private collectors and from the churches of Goa.
---
Renaissance Reizen (I) Pvt. Ltd., recognised by Govt. of India, Ministry of Tourism.
Renaissance Reizen is a proud member of - Indian Association of Tour Operators (IATO), Pacific Asia Travel Association(PATA) and
TAAI (Travel Agents Association of India).
Site Developed & Promoted by Advent InfoSoft Pvt Ltd.