Bikaner Information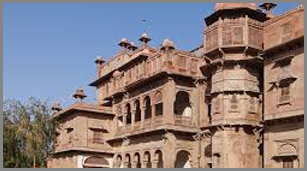 Location : In the north Indian state of Rajasthan.
Major Tourist Attractions : Junagarh Fort, Lalgarh Palace, Camel Research and Breeding Farm, Gajner Palace, Deshnoke Temple, Ganga Golden Jubilee Museum, Shri Sadul Museum, Fort Museum, Gajner Wildlife Sanctuary
Festival : Camel Festival (in the month of January)
Best Buys : Bikaneri sweets and snacks
Best Activity : Camel Ride
Festival : Bikaner Camel Festival ( January)
Festival : Bikaner Camel Festival ( January)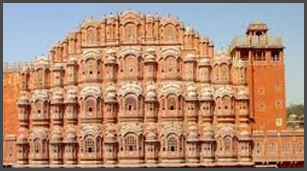 About Bikaner
Bikaner was founded in 1488 by a descendant of the founder of Jodhpur named Rao Bhikaji. The city is encircled by high fortifications comprising a 7 km long wall which bounds the old city and has 5 entrances. All these were established in the 18th century. Bikaner, the sprawling desert city of Rajasthan is an interesting site of traditional Rajasthani attractions, Lalgarh Palace - Bikanerwell-fed camels and citadels. This camel country is also famous for its exotic camel safaris, its gorgeous forts and the worship of thousands of holy rats at Mata Kali temple.
Tourist Attractions in Bikaner
Junagarh Fort
Raised by Rai Singh during the period of 1588 to 1593, the Junagarh Fort has a 986 m long wall with 37 bastions, a moat and two entrances. It massive structure is very prominent in the city and can be seen from a distance. Its most unusual feature is that it was built at ground level and not on high ground. The fort and its palaces are elaborately defined with magnificent stone carvings. The major attractions within the fort contains the Anup Mahal, Diwan-e-Khas, Hawa Mahal, Badal Mahal, Chandra Mahal, Phool Mahal, Rang Mahal, Dungar Mahal, and Ganga Mahal.
Lalgarh Palace
The Lalgarh Palace built by Maharaja Ganga Singh in the memory of his father is an architectural splendour in red sandstone. It is situated 3 kms north of Bikaner city. Designed by Sir Swinton Jacob, it has beautiful latticework and filigree work in sandstone. The palace is quite entirely imposing with overhanging balconies and delicate latticework. The gardens with wandering peacocks and blooming bougainvillea welcome the visitors to the palace.
Temples
The temple of Karni Devi is the most significant one as it is dedicated to the family deity of the royal house of Bikaner. The Bhandeshwar and Sandeshwar Jain Temples are dedicated to the 23rd Jain Tirthankara, Parsavnathji. Built in the 16th century by two brothers whose names they bear, these temples are distinct for their colourful murals and the abundant use of gold leaf and mirrors.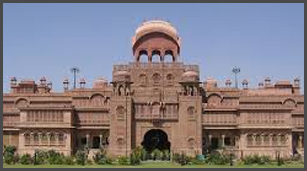 Getting There
Air : Jodhpur is the nearest airport. The airport is easily accessible by road.
Rail : Bikaner has number of train links to connect it with the major cities of India.
Road : It is well linked with the big and small cities of India by the national highways and other roadways.
Accommodation
There are several hotels in various categories in Bikaner. To provide you a perfect accommodation with best services and facilities, we have engaged ourselves with some leading hotels which range from luxury, deluxe, to star and budget. The hotels with best services in luxurious surroundings offer the best facilities you would expect. Select the one which is ideal for you and make your tour to Bikaner India completely comfortable.
Bikaner Tour Packages
---