Camping Holiday Tour Package
Camping is one activity which can be experienced by all age group people. camping does not require too much physical labour. All you need to do is put a tent and spend some moment roaming around. This sport is ideal for children as well as adult.
Himachal Pradesh offers many places and very serene camping places. High altitude camping is preferred at Laka Glacier (Dhauladhar Range -it is near Triund-Macleod Ganj area ). Glacier of Ladakh-Manali is easy and safe and is easily approachable from Beas Kund area. Camping in Himachal Pradesh is very relaxing and comfortable as comparable to camping in other ranges of Himalayas.
Major Sites for Camping
Triund Camp
Triund is situated at 2400m approx. and very famous for student, family & spiritual camping. People from 'West' practice yoga and meditation and usually stay for very longer periods.
Beas Kund Camping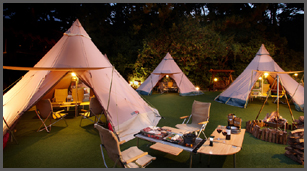 Beas Kund areaCamping in Himachal can be used as multidimensional camping place. Small kids in family can go upto Dhundi or Bakar Thactch. Children upto ages of 14 can go to Beas Kund without any problem. A low altitude camping can be enjoyed at Dhundi, Bakar Thacth. And you can change camping place according to your choice and suitability. Most people likes to live near Beas Kund pasteur. This is one of the ideal summer vocation place in Himachal.
Pulga-Kheer Ganga Pulga is situated in pine forest of Parvati Valley. Now electricity& phones had reached but still very few Indian visit this area. Most people turn back after visiting religious place of Manikaran. This area of camping had been made popular by 'Western' campers who had been visiting and some have settled in this valley. Kheer ganga is further 5 kms. from Pulga and requires tents and kitchen infrastructure as there is no place to live in.
Hatu Camping
Hatu at a height of 10500 ft. The camp is situated in the midst of jungle on a small flat clearing in the middle. One can see the snowline each morning as you step out of the tent. With a wide variety of flora and fauna to explore when in camps this camp is ideal for those looking for nature at it's best. Hatu has one of the best sunset in the world . The whole area just covered in simmering red gold when the sun is setting behind the ranges
The camp has much to offer for adventure lovers in forms of rock climbing with almost all kinds of technical rock available in the vicinity of the camp. Rappelling and Jumar is another adventure to look forward too. With a range of amny adventure act ivies planned one can go for a longer duration of camping at this camp.
Churdhar Camping Churdhar the famous peak where one can go for trekking is at an height of 11000 ft. The place has a natural Lingam of Lord Shiva. It's the place to be for long or short breaks from our daily hectic life and rejuvenates those tired bones and clear all the mental blocks. This a a botanical paradise with much of rare herbs and plants found at each nook and corner of the sanctuary.
Chail Camping
Situated about 6 km from Chail, at over 2,600 m altitude from the sea level, Chail is 400 m from the main road. With orchard all round. An ideal camp for those who would like to do a see at the apple orchards at close hand. With plenty of natural adventure activities in the area one is kept busy through out the stay.
---
Renaissance Reizen (I) Pvt. Ltd., recognised by Govt. of India, Ministry of Tourism.
Renaissance Reizen is a proud member of - Indian Association of Tour Operators (IATO), Pacific Asia Travel Association(PATA) and
TAAI (Travel Agents Association of India).
Site Developed & Promoted by Advent InfoSoft Pvt Ltd.