Dharamshala Information
Location : In district Kangra, in the the heart of Dhauladhar range.
Tourist Attractions : Mcleod Ganj, Bhagsunag Fall, St. John's Church, Dharamkot, War Memorial, Kunal Pathari. Numerous ancient temples like Jwalamukhi, Brijeshwari and Chamunda lie on the plains below Dharamsala.
Best Buys : Tibetan handicrafts, carpets.
Best Hangouts : Mcleod Ganj, Triund, Kareri, Dal Lake.
Best Activities : Trekking
Nearby Tourist Destinations : Chandigarh, Delhi, Nangal, Jalandhar, Hoshiarpur, Mandi, Jwalamukhi, Kullu, Manali, Chamba and Shimla.
When to Visit : Any time of the year.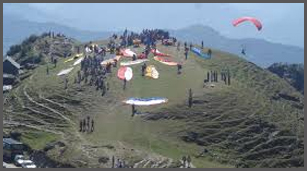 About Dharamshala
Dharamshala stands at the foot of snow wrapped lofty Dhauladhar ranges and offers a magnificent view of snowy peaks, deodar and pine forests, Mcleodganj - Dharmshalatea gardens and beautiful hills. Dharamshala with a number of Tibetan settlements and the residence of the spiritual and temporal leader of the Tibetan people, the Noble Laureate His Holiness the Dalai Lama, now really has become a place of international significance.
Dharamsala is an important township of Kangra district in the state of Himachal Pradesh in the northern part of India. Numerous streams, cool healthy air, attractive surroundings and the nearby snowline, Dharamsala has everything for a perfect holiday. It is full of life and yet peaceful. Today, Dharamshala in the north Indian State of Himachal Pradesh is home to a large Tibetan Community who have made Dharamshala their home.
Major Tourist Attractions in Dharamshala
Mcleod Ganj
The arrival of the Tibetan spiritual leader, the Dalai Lama, along with thousands of refugees to Dharamshala in 1959 made this place more lively. A number of Tibetan settlements with religious education and other rehabilitation centres have emerged all over Mcleodganj. Today, Mcleodganj is a major Buddhist centre of pilgrimage and learning.
Bhagsunag Fall
The fall is about 11 km. from Dharamshala town, known for its old temple, a fresh water spring, water falls and slate quarries. This spot can be easily accessed by road. The Bhagsunag fall is one of the major attractions of Mcleodganj.
St. John's Church
At a distance of 8 km. from Dharamshala, the church lies amidst the deodar forest between Mcleod Ganj and Forsyth Ganj. The church houses a monument dedicated to Lord Elgin, one of the viceroys of India, who died at Chauntra ( Mandi district ) and was buried here in 1863 A.D.
Dharamkot
About 14 km. from Dharamshala, Dharamkot is situated on the crest of a hill. This favourite picnic spot offers a panoramic view of the Kangra valley and the snow clad Dhauladhar ranges. One can easily reach Dharamkot by a simple trek from Bhagsu. En route there are several small restaurant type of shops offering quick relaxation and beverages.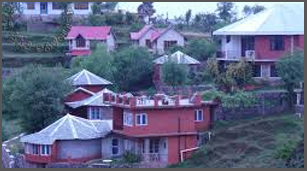 War Memorial
DharmshalaThe War Memorial is situated in Dharamshala town, near the entry point to Dharamshala commemorates. This was built in the memory of those who fought valiantly for the honour and defence of the mother land. The place is ideally located amid the pine forest. There is also a cafe just close to War Memorial serving fast food and beverages.
Kunal Pathari
3 km from Dharamshala is Kotwali Bazar, a level walk from where leads upto the rock temple of the local goddess. This is an amazing place to visit in Dharamshala.
Getting There
Air : Nearest airport is Gaggal airport located 15 km. from Dharamshala. Other airports having regular service are : Jammu 200 km., Amritsar 210 km. and Chandigarh 260 km.
Rail : Nearest broad gauge railhead is Pathankot 95 km. A narrow gauge railway line between Pathankot and Jogindernagar passes through Kangra, 17 km. from Dharamshala.
Road : Almost each and every part of the state is linked by roads. The Himachal Road Transport Corporation is running its buses covering the whole state. There is huge network of HRTC to cater the needs of the people.
Accommodation
There are numerous place at Dharamshala providing world class facilities and services to make the stay of the tourists comfortable. Providing panoramic views of the surroundings, Dharamshala hotels offer best facilities within the premises. The hotels in Dharamshala are available in all categories from deluxe hotels to economy hotels. Pick the one which most suites your need and make your India tour most memorable.
---