Jammu Kashmir Travel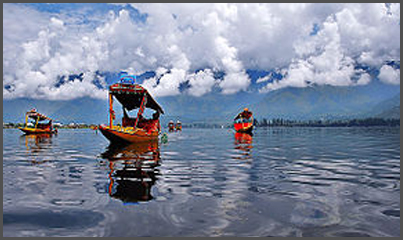 The Kashmir, northernmost state of India, which comprises of three district geographical regions, three main languages and three religions. One of these regions, Ladakh, is a high altitutde desert with temperatures sinking to minus 40 degrees Celsius in winter. The other, Kashmir, is the legendary valley touched with such benediction that poets have showered hyperbolic adjectives on it. It has snow in winter and bring, mild sunshine from April to November. And finally there is Jammu, climatically very much like the plains of northern India.
Ladakh the northern frontier of India, where Afghanistan, Pakistan and China meet, is an area of high altitutdes, glaciers, streams and charming valleys hidden among some of the tallest mountains in the world-the karakoram range. The journey by road from Srinagar over the Zoji la (Pass) climbing unaccustomed heights, traverses cold, grey crags and boulders, and vast yellow desert-like plains. Situated on the western end of the Himalayas, Ladakh has four major mountain ranges - the Greeat Himalayan Zanskar, Ladakh and the Karakoram - passing through it. A maze of enormously high snow capped peaks and the largest glaciers outside the polar region, the Siachen, dominate the terrain where valley heights range from a mere 8000 feet to 15000 feet while passes of upto 20000 feet and peaks reaching over 25000 feet can be seen all around. The main land approach to Ladakh is the 434 km Srinagar-Leh highway. For most part, this road follows the historic trade route, thus giving travellers a glimpse of villages that are historically and culturally important. The most dramatic part of the road journey to Kargil is the ascent up the Zoji-La, the pass in the Great Himalayan Range that serves as the gateway to Ladakh.
Manali-Leh; once restricted route, opened to the tourists a few years ago, now takes one across high Himalayan passes and two extensive plains resembling the Praries of Russia and America. From Manali, to the crest of the Rohtang Pass (13050 ft), providing a grandstand view of Lahaul to the junction of the route going east to Spiti over the Kunzum Pass to Keylong. After passing through Keylong (3350 m)the route follows via Jispa (3142 m), Baralacha Pass (4892 m), Sarchu (4253 m), Lachalunga la (5065 m), Tanglang-la (5360 m) Leh (3524 m), 434 kms. Ladakh offers a wide range of cultural and adventure tours. Ancient monasteries, stupas, gompas, murals there are many other options for visiting Tribal Helmets of Dha-Hanu to valleys of Pangong, Tso Moriri, Nubra or for treks to Lamayuru, Markha, Zanskar. Open to the tourists from June till October, Leh can be reached by air from Delhi, Chandigarh, Srinagar, Jammu or by road from Srinagar and Manali.
---