Karnataka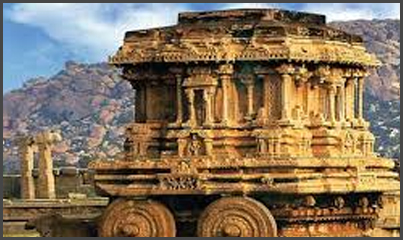 KARNATKA Extending over 192000 sq. Km on the Western half of the Deccan Plateau bounded by Andhra Pradesh in the east, Maharashtra in the north and Tamil Nadu/Kerala on the south; Karnatka emerge through the mists of antiquity. The historian is thrilled by the array of dynasties that marched their armies to battle and ruled over this land. It is here the skilled artists have treated stone like ivory and executed filigree work of great finesse.

It was to Sravanbelgola, Karnatka, in the 3rd century BC that Chandragupta Maurya, India's first great emperor, retreated after he had renounced worldly ways and embraced Jainism. Many centuries later, the mighty 17 meter high statue of Gomateshvaras, which celebrated its 1000th anniversary in 1981, was erected at Sravanbelgola. Fifteen hundred years ago at Badami in the north of the state, the Chalukyan built some of the earliest Hindu temples in India. All later south India temple architecture stems from the Chalukyan designs at Badami. Hampi is one of the most beautiful, extensive and fascinating of India's ruined kingdoms.

The temples at Belur & Halebid are the masterpiece of most artistically exuberant periods of Hindu culture development. The city Palace of Mysore, the Brindavan Gardens, well laid out garden city of Bangalore, the wildlife sanctuaries at Nagerhole and Bandipur and rich spices and coffee plantation areas are many other attractions.
---
Renaissance Reizen (I) Pvt. Ltd., recognised by Govt. of India, Ministry of Tourism.
Renaissance Reizen is a proud member of - Indian Association of Tour Operators (IATO), Pacific Asia Travel Association(PATA) and
TAAI (Travel Agents Association of India).
Site Developed & Promoted by Advent InfoSoft Pvt Ltd.