Keoladeo Ghana Tour Package Rajasthan
Location : In the north Indian state of Rajasthan
Tourist Attractions : Resident and migratory birds.
Other Attractions : Bharatpur Govenment Museum, Bharatpur Palace, Lohagarh Fort, Deeg Palace
Best Sites : The water bodies.
Nearby Tourist Destinations : Jaipur, Alwar, Ajmer, Shekhawati, Delhi, Agra.
Best Season to Visit : October to March.
About Keoladeo National Park
Keoladeo National Park is situated in the town of Bharatpur in the north Indian state of Rajasthan, about 55 kms from the Agra - the city of Taj. Keoladeo National Park is famous as one of Asia's finest birding areas, with over 380 resident and migrant species, including the Common, Demoiselle and the rare Siberian Cranes. Previously known as the Bharatpur Bird Sanctuary, the Keoladeo National Park is also an excellent place to watch mammals like Golden Jackal, Striped Hyaena, Fishing Cat, Jungle Cat, Nilgai, Sambar, Blackbuck and wild Boar.
In 1981, Keoladeo was given the status of national park. The park is spread over an area of 29-sq-kms of which 11-sq-kms are marshes and the rest scrubland and grassland. Keoladeo, the name derives from an ancient Hindu temple, devoted to Lord Shiva, which stands at the centre of the park. 'Ghana' means dense, referring to the thick forest, which used to cover the area.
Major Tourist Attractions in Keoladeo (Bharatpur)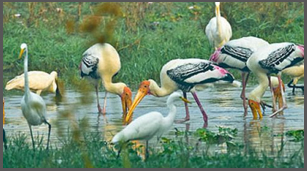 The Birds
The major attractions of tourists visiting the park are the numerous migratory birds, who come from as far away as Siberia and Central Asia and spend their winters in Bharatpur, before returning to their breeding grounds. Migratory birds at Bharatpur bird sanctuary include, several species of Cranes, Keoladeo Ghana National ParkPelicans, Geese, Ducks, Eagles, Hawks, Shanks, Stints, Wagtails, Warblers, Wheatears, Flycatchers, Buntings, Larks and Pipits, etc. During the cool winter months it is also possible to see large Indian Pythons sunning themselves.
Bharatpur Govenment Museum
One of the major attraction after the Bharatpur sanctuary is Government Museum of Bharatpur, which provides a glimpse of the past royal splendour of Bharatpur.
Bharatpur Palace
Bharatpur Palace is an marvellous structural blend of Mughal and Rajput architecture.
Lohagarh Fort
The invincible Lohagarh Fort, which remained unconquered despite several attacks by the British regime.
Deeg Palace
Situated just 32-kms away from Bharatpur is the Deeg Palace. A strong and massive fortress, Deeg Palace was the summer resort of the rulers of Bharatpur and houses numerous beautiful palaces and gardens.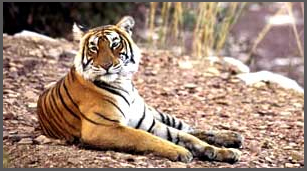 Park Trips
Tourists Birdwatching at KeoladeoThere are well-defined forest trails, which can easily be covered on foot or on a cycle or you can also hire a rickshaw that are available on hire. Boats are also available on hire. A early morning boat trip or a late evening one is quite a rewarding experience to check out the hidden treasures of Bharatpur.
Getting There
Air : The nearest airport is situated at Agra, which is 56-kms from Bharatpur.
Rail : Regular rail services connect Bharatpur with all the major cities of India such as Delhi, Mumbai, Jaipur and Agra. The Bharatpur railway station is 6-kms from the park
Road : An excellent network of roadway services connects Bharatpur to all the major cities of the Rajasthan and its neighbouring states like Delhi, Uttar Pradesh, Haryana. Bharatpur is well connected by road from Agra (55-kms), Delhi (176-kms) and Jaipur (176-kms), all of which have airport facilities too.
Accommodation

There are numerous accommodation facilities near the Keoladeo National Park (Bharatpur Bird Sanctuary). The hotels here range from heritage to luxury and deluxe and budget category. All the hotels are well appointed with world class facilities and services. The sanctuary can be conveniently visited from all the accommodations available.
---