Manali Tour Package
Location : In the north Indian state of Himachal Pradesh
Major Tourist Attraction : Vashisth Hot Sulphur Spring, Rohtang Pass, Hadimba Temple
Best Buys : Woollen goods Manali's other specialty is Himalayan handicrafts, mainly assorted Tibetan curios such as prayer wheels, amulets, dorjees or thunderbolts, masks, musical instruments, jewellery and thangkas.
Best Activities : Rafting, Skiing, Paragliding, Mountaineering, Heli Skiing
Festival : Winter Carnival
Nearby Tourist Destination : Rohtang Pass, Arjun Gufa, Beas Kund, Jagatsukh Temple, Kothi, Old Manali, Rahalla Falls, Solang Nullah, Vashisth Hot Sulphur Springs
When to Visit : Any Time of the year.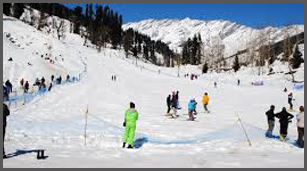 About Manali
The Kullu valley in the state of Himachal Pradesh has an ancient town in its lap called Manali. Surrounded by sky kissing peaks at an arm length, Manali's major treasure is its proximity to the snow clad peaks. Manali is a flourishing orchard industry, a popular honeymoon destination and trailhead for innumerous treks as well as a great countryside ideal for adventure sport lovers and nature seekers.
Manali literally means the 'Home of Manu'. Manu is the mythological character who is supposed to have survived when the world was drowned in Flood. He then came to Manali and recreated human life. Thus, Manali is sacred and Hindus treat the temples over here as pilgrimage.
Tourist Attractions in Manali
Hidimba Devi Temple
Hadimba or Dhungiri temple in Manali is one of the most important temples in the region. This four story wooden temple is located in the middle of a forest called the Dhungiri Van Vihar.
Manali Sanctuary
This sanctuary is located in District Kullu's nearest town, Manali. The area of this sanctuary is 3,180 hectares. The sanctuary wasnotified on 26th February 1954, under the Punjab Birds and Wild Animals Protection Act, 1933.
Adventure Sports
Himachal Pradesh has some challenging peaks and each year expeditions are organised by the Mountaineering Institute at Manali. The Mountaineering Institute has regional centres at Dharamsala, Bharmour and Jispa, which organise adventure courses as well.
For high mountain thrills perhaps nothing can surpass the magic of heli- skiing. The sport is available in the area abound by the Hanuman Tibba, Rohtang Pass, Deo Tibba and Chanderkhani Pass near Manali.
Mountaineering Institute
The Mountaineering Institute located at Manali provides training facilities for basic and advance climbing both for Indian nationals and foreigners. This institute also conducts other adventurous sports activities like high altitude trekking, minor mountaineering, rock-climbing, skiing, and high altitude rescue and relief courses. The institute has sufficient lodging and boarding arrangements and equipment can be hired for trekking purposes.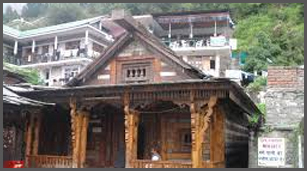 Temple Of Manu
Hadimba Temple - ManaliSlippery stones paths lead through the old village houses up to the temple of Manu. Manali is named after the sage Manu who meditated when he came in this area.
Tibetan Temple
Tibetans have a base in Manali too. There is a large modern Tibetan temple to the South of the bus stand and also a small handicrafts centre.
Vashisth Village
Famous for the sweeping valley views and sulphurous hot-water springs, the large settlement of Vashisht, formerly known as Bashist, just 3km from Manali, is an amorphous jumble of traditional timber houses and modern concrete cubes, divided by paved courtyards and narrow muddy lanes.
Getting There
Air : The nearest airport to Manali is that of Bhuntar, which is 52-km from Manali. From Bhuntar one can take a taxi or a bus to Manali.
Rail : The nearest railhead is that of Joginder Nagar and this narrow gauze railway station is 95-km from Kullu. The scenic beauty of Kullu while going to Manali can best be enjoyed on a bus or a taxi. It is better to take a taxi, which one can stop and enjoy the nature at will.
Road : The road to Manali passes through the picturesque valley of Kullu. The motorable roads to Manali connect the town with other major tourist places in Himachal as well as in the nearby states. At the Manali bus stand there are two booths, which do computerised reservation for buses. The reservations can be made one month in advance. Both private and state government buses are in service over here.
Accommodation
There are dozens of places to stay in Manali, including Hotel Tourist, Jhon Banon'n Guesthouse, Sunshine Guest House, Sunshine Guest House, Hotel Highlands, Pinewood Hotel, Hotel Chetna, Beas Hotel and Hotel Rohtang Manalsu. HPTDC runs several places and bookings can be made at the HTPDC Marketing Office on the Mall.
---