CALL OUR EXPERT +91-11-47597176
Mountaineering Tours India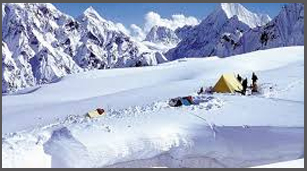 The Himalayas, include eight of the world's fourteen highest mountain peaks extending in a magnificent sweep of 2400 km along the northern boundary of India, from Kashmir in the west to Darjeeling in the east. No trekking or mountaineering experience can match the excitement of a spell in the Himalayas. The season for trekking is rather short due to climatic conditions, difficult passes which remain covered with snow during most of the year. June to mid-September are the months when trekking is possible in most of the trekking regions in India.
---
Free Travel Plan Suggestion - Ask for a Quote for FREE
Renaissance Reizen (I) Pvt. Ltd., recognised by Govt. of India, Ministry of Tourism.
Renaissance Reizen is a proud member of - Indian Association of Tour Operators (IATO), Pacific Asia Travel Association(PATA) and
TAAI (Travel Agents Association of India).
Site Developed & Promoted by Advent InfoSoft Pvt Ltd.