Munnar Tour Package
Location : In the south Indian State of Kerala, on the high ranges of the western ghats.
Tourist Attractions : Mattupetty, Devikulam, Marayoor, Eravikulam National Park, Lock Heart Gap, Chithirapuram, Anayirangal, Attukal, Nyayamakad, Echo Point, Rajamala, Kundala, Power House Waterfalls, Malankara Reservoir.
Best Activity : Trekking, boating, riding, angling, visit the tea gardens.
Nearby Tourist Destinations : Idukki, Thekkady, Cochin (Kochi), Kumarakom, Madurai.
When to Visit : September to May
About Munnar
Munnar is a picturesque chunk of the lofty Western Ghats in the backwater country of Kerala in South India. The town of Munnar stands at the confluence of three mountain streams - Mudrapuzha, Nallathanni and Kundala. Munnar is the most ideal place for the tourists looking for trekking, boating, riding, angling and much more all at the same time. The balmy climate of the Munnar will prompt you to laze about and fill your soul with peace and delight.
A haven of peace and tranquillity, Munnar is amazingly beautiful, an idyllic tourist destination in God's own country. At an altitude of 6000 ft, Munnar has been the favoured summer resort since the time of the erstwhile British rulers in the colonial days. Endless belt of tea plantations - pristine valleys and lush mountains - exotic species of flora and fauna in its wild sanctuaries and forests - aroma of spice scented cool air, makes MunnarMunnar one of the selected few travel destinations to laze around. Munnar is the place you would love to visit and never wish to leave.
Major Tourist Attractions in Munnar
Mattupetty
Mattupetty is about 13 km from Munnar in the state of Kerala. Situated at a height of 1700 m, Mattupetty is known for its highly specialised dairy farm, the Indo-Swiss live stock project. Over 100 varieties of high yielding cattle are reared here. The Mattupetty lake and dam, just a short distance from the farm, is an amazing beautiful picnic spot. The sprawling Kundala tea plantations and the Kundala lake are other attractions in the vicinity. You can also try boating at the Mattupetty Dam, provided by DTPC Idukki.
Devikulam
At a distance of 7 km from Munnar, Devikulam is an idyllic hill station with its velvet lawns, exotic flora and fauna and the cool mountain air is a rare experience you can feel here. The Sita Devi Lake with its mineral waters and picturesque surroundings is a good picnic spot. The lake is also ideal for trout fishing.
Pallivasal
Pallivasal is the venue of the first Hydro Electric Project in Kerala and a place of immense scenic beauty, situated at a distance of 8 km from Munnar.
Eravikulam National Park
Eravikulam National Park is located at a distance of 15 km from Munnar in the state of Kerala. The 97 sq. km. park is situated in the Devikulam Taluk and is home to the Nilgiri Tahr. Originally established to protect the Nilgiri tahr (Nilgiri Ibex), the Eravikulam National Park is situated in the Devikulam Taluk of the Idukki District. It was declared as a sanctuary in 1975. Considering the ecological, faunal, floral, geo-morphological and zoological significance, it was declared as a National park in 1978. The park is breathtakingly beautiful and is easily comparable to the best mountain ranges found anywhere in the world.
Malankara Reservoir
Located about 6 kms from Thodupuzha on the Thodupuzha - Moolavattom road, this artificial lake is accessible by road. The reservoir is ideal haunt for the tourists looking for boating and fishing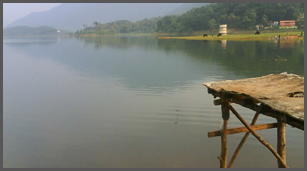 Lock Heart Gap
Waterfalls near MunnarThis is an ideal place for adventure tourism and trekking, located about 13 kms from Munnar. The fresh mountain air, the mist-clad hills and panoramic view make it worthy of a visit.
Attukal
Attukal is about 9 km from Munnar. A panorama of waterfalls and rolling hills, Attukal, located between Munnar and Pallivasal, is a feast for the eyes. The place is also ideal for long treks.
Nyayamakad
Located between Munnar and Rajamala, at a distance of 10 kms form Munnar, Nyayamakad is a land of breathtaking waterfalls. The waters cascade down a hill from a height of about 1600 m. The enticing surroundings makes an excellent picnic spot and trekking point.
Getting There
Air : Nearest airport at Kochi (Cochin) at a distance of 130 kms.
Rail : Nearest railheads are at Kochi (130 kms) and Kottayam (142 kms).
Road : Munnar is well connected to all the major cities of Kerala and south India. Some nearby road destinations are - Idukki 60 km, Kundala 28 km, Thekkady 110 km, Vaiga Dam 105 km, Devikulam 7 km, Mattupetty 13 km.
Accommodation
Accommodations are plenty here. The available accommodation ranges between luxury and budget. The hotels are well equipped with all modern facilities and services to provide the ultimate satisfactions to all types of tourists coming from all over. The hotels set amidst the soothing climate are the best option to spend your holida
---