Periyar Tour Package
location : In the south Indian State of Kerala, on the high ranges of the western ghats
Tourist Attractions : Tigers, Elephant.
Best Hangouts : Periyar Lake
Best Activity : Boat Ride on the Periyar lake
Nearby Tourist Destinations : Cochins, Madurai, Alleppey, Kottayam.
When to Visit : September to May
About Periyar
Periyar, also known as Thekkady is best known for its wildlife, is a must-see for all visitors to Kerala. The Periyar Lake lies at the heart of the sanctuary, which is a veritable paradise for all wildlife lovers. Situated within the boundaries of the Western Ghats in the southern Indian state of Kerala, Periyar National Park and Tiger Reserve is one of the most captivating wildlife parks in the world. Periyar is a park where one can witness playful pachyderms roaming freely with their family and friends, whose population is currently around 800. The population of tigers is also increasing appreciably. The landscape varies from hilly to flat grassland areas at the edges of the lakes. The vegetation is of moist deciduous type.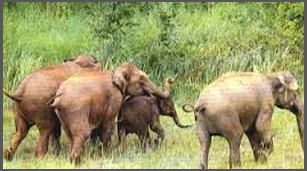 Major Tourist Attractions in Periyar
The Animals
Periyar is a veritable paradise of elephants. Herds of playful wild elephants can be seen near the Periyar lake, their favorite haunt for frolicking in the water. Periyars wildlife variety includes the tiger, sambar, barking deer, mouse deer, the Nilgiri langur, wild dog, porcupine, lion tailed macaque, Malabar squirrel and sloth bear. There are approximately 40 tigers in the area as per the latest reports.
The Birds
Some 260 species of birds are found at Periyar. These include darters, cormorants, ibises, gray herons, mynas, flycatchers, orioles, wood pigeons, kingfishers, kites, ospreys, thrushes, and an appreciable number of blue-winged parakeets
The Periyar Lake A boat ride on the lake will make your Periyar tour absolutely fantastic. Sighting the elephants from the boat is very easy, as they come in herds near the lake to frolic in the water. The lake is also the most ideal place to watch the birds. So take a boat ride and enjoy the picturesque surroundings of the lake.
Getting There
Air : The nearest airport is Madurai (140km).
Rail : The nearest major rail junction is Kottayam.
Road : Easily accessible by road from towns in Kerala. The park is well connected by metalled road from the state capital of Thiruvananthapuram (271 km), as well as the cities of Cochin (200 km), Kottayam (117 km), and Madurai (140 km).
Accommodation
There are good line of decent accommodation options in Periyar and the scene is getting better each day. The accommodations available here are convenient with high quality facilities and services. There are a number of star category hotels catering to the needs of tourists coming from all over to explore Periyar and its scenic settings.
---