Sariska Wildlife Sanctuary, Rajasthan
Location : In the north Indian state of Rajasthan.
Tourist Attractions : Tigers and other mammals and birds.
Other Attractions : The Kankwari Fort, The Ancient Shiva Temples, The Palace.
Nearby Tourist Destinations : Jaipur, Alwar, Ajmer, Shekhawati, Delhi, Agra.
Best Season to Visit : October to March.
About Sariska National Park
Lying amidst the Aravali Hills on 800 sq km of grassland, Sariska Tiger Reserve is probably one of the most visited parks in India. Characterised dry deciduous forests, sheer cliffs and rocky landscape interspersed with the ruins of medieval buildings. The reserve was declared a wildlife sanctuary in 1958 and came under the "Project Tiger" as a tiger reserve in 1979.
Major Tourist Attractions in Sariska
The Vegetation
The park consist many undulating hills of all sizes. The forest cover is mostly of the dry deciduous type with Dhok, Khair, Tendu, Ber, Surwal and Goria making up a majority of the vegetation.
The Animals
The park also has good populations of Nilgai, Sambar and Chital. In the evenings, Indian Porcupine, Striped Hyaena, Indian Palm Civet and even Leopard are sometimes seen. The Tigers of Sariska are largely nocturnal and are not as easily seen as those of Ranthambhore.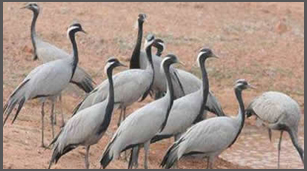 The Birds
The avian population in the park is also very large. Some of the bird species visible in the park are Peafowl, Red Jungle Fowl, Spur Fowls, White Breasted Kingfishers, Golden Backed Woodpeckers, Sariska Wildlife SanctuaryGreat Indian Horned Owls, Quails, Partridges, Sangrouse, Tree Pies, Crested Serpent Eagles, Parakeets, Drongos, Sunbirds and Vultures.
The Kankwari Fort
Among the historic landmarks located within the Sariska national park, includes the Kankwari For, where, Emperor Aurangzeb once imprisoned his brother, Dara Shikoh.
The Ancient Shiva Temples
Within the area of the Sariska tiger sanctuary, Neelkanth temples, that dates back to the 6th-13th century AD, now in ruins, afford a wonderful sight to the visitors.
The Palace
Sariska was known as the royal reserve of the rulers of Alwar. This palace built by the Maharajas of Alwar, has now been converted into a hotel.
Park Trip
The ideal way to travel within the reserve is in your own vehicle. The other way that one can explore the interiors of the jungle is by hiring a jeep from either your hotel or from the local jeep operators.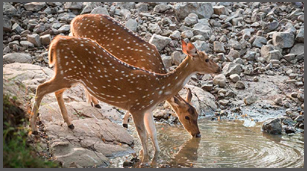 Getting There
Air : The nearest Airport to the park is located at Jaipur (110 km).
Rail :The nearest Railway Station to the park is also located at Alwar.
Road : The nearest main town to Sariska is Alwar (36 km). The park is very easily accessible from Delhi too. It is also possible to go via the main Jaipur highway, by which the distance gets extended to approximately 240 km.

Accommodation
All accommodation options available at the park are located outside it's boundaries. The hotels are quite reasonable priced and provides clean air-conditioned and non-air conditioned rooms. All the hotels available here provide good line of facilities and services.
---