Skiing
The hills of Uttaranchal are packed with adventure, excitement and thrills. Uttaranchal with unexplored valleys, sky kissing peaks, cascading rivers, snow covered mountains, abundant of flora & fauna and vast regions of lush greenness is a delightful place for all types of tourists. The region also provides immense opportunities for adventure sports like skiing and the enthralling water sports which make Uttaranchal an ideal destination for adventure seekers.
The long extended slopes of Garhwal and Kumaon covered with seasonal snow becomes an ideal place for skiing in the winter months. For the avid skier, cross-country runs of 10-20 km are now available, with the added advantage of fresh powder snow. Because of their height and expanse, Garhwal and Kumaon, like other sectors of the Himalayas, are in position to offer the thrills of exploratory long distance skiing round the year.
Major Sites for Skiing
Auli
Auli at a distance of 16 kms. from Joshimath is an ideal winter haunt run by Garhwal Mandal Vikas Nigam (GMVN). A 3 km long slope ranging from a height of 2519 m to 3049 m is a major attraction. The Auli resort run by GMVN has snow beaters which beat the snow to keep the slopes perfect for skiing at any time. A 500 m long ski-lift carries skiiers back to the slope top, thus saving them the trouble and time to bridge up wearing long skis.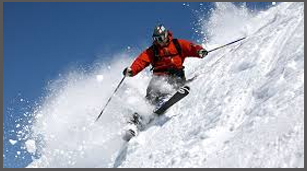 Dayara Bugyal
Bugyal in the local language means "high altitude meadow". Situated at an elevation of about 3048 mts., this vast meadow is second to none in natural beauty. During winter it provides excellent ski slopes over an area of 28 sq. kms. The panoramic view of the Himalayas from here is breathtaking.
The road to Dayara Bugyal diverts near Bhatwari a place on Uttarkashi-Gangotri road about 28 km away from Uttarkashi. Vehicles can go up to the village of Barsu from where one has to trek a distance of about 8 km to reach Dayara. Other route is via village Raithal, 10 km from Bhatwari, from where one has to trek about 6 km to Dayara Bugyal.
Mundali
Mundali is situated in district Dehradun 129 km from Dehradun via Chakrata. Mandali offers a mind blowing view of the snow coated Himalayas. The place has vast ski slopes on which professional can enjoy skiing. Accommodation facility is only available at Forest Rest House and therefore it advisable that one ensures accommodation through the Forest Department, before starting the trip.
Munsyari
Nestling amidst spectacular Kumaon Himalayas at a height of 1645 m, Pithoragarh is often called 'Miniature Kashmir'. It is a small valley barely 5 km long and 2 km wide.
Located at an altitude of 2135 m., Munsyari is situated at a distance of 66 km from Jauljibi and 127 km from Pithoragarh via Thal. Munsyari is the centre as well as the gateway of the Johar region. Munsyari is the base for treks to Milam, Namik and Ralam Glaciers. There is a Tourist Rest House and a small town for accommodation. Khalia top and Betulidhar are two high altitude places, ideal for skiing.
Skiing Tips
Participants are advised to bring heavy woollen clothing like caps, socks, gloves, mufflers, pullovers, trousers, wind proof jackets, dark glasses, gum/snow boots and a troch for personal use.
When To Visit : End December to March
---