Tamilnadu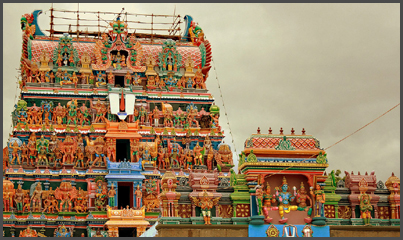 Tamil Nadu is bounded by Karnataka and Andhra Pradesh in the north and Kerala on the west. The coastal eastern and southern boundaries are lapped by the waters of the Bay of Bengal and the Indian Ocean respectively. The eastern and western tips of the state are defined by the Point Calimere and Mudumalai wildlife sanctuaries while the southernmost tip of Cape Comorin or Kanyakumari, the Land's End of India.

There are more than 30,000 temples in this sate; which has given Tamil Nadu the title, "Land of Temples". The Tamils have always been a God fearing lot and are ardent worshippers of Shiva, Vishnu, Parvati and Lakshmi Subramanya. Vinayaka or Pillayar is perhaps the most worshipped of the gods and is also called Ganapati or Ganesh. He is the elephant headed elder son of Lord Shiva and Parvati and is extremely benign in appearance. During any festival or celebration, worship of this God is given precedence over the other.

During the rule of two most important dynasties, the Pallavas and Chola from 1st to 8th century AD, the famous temples built were in Kanchipuram, the Kapaliswarar and Parthasarathy at Madras the magnificent poetry in rock and stone at Mamallapuram (Mahabalipuram). Kanchi has been described extensively by the Chinese traveller Hieun Tsang who visited this city in the middle of the 6th century AD, as a major centre of learning.

Tamil Nadu is the ultimate destination. It has everything to offer from temple architecture; rock cut edicts, lush green hills and tea slopes at Kodaikanal, Ooty and Coonoor ; flora and fauna at the game sanctuaries in Vedanthangal and Mudumalai; the sound of ankle bells of the Bharat Natyam, the classical dance with 108 postures and the Mahabalipuram beach near Madras.
---
Renaissance Reizen (I) Pvt. Ltd., recognised by Govt. of India, Ministry of Tourism.
Renaissance Reizen is a proud member of - Indian Association of Tour Operators (IATO), Pacific Asia Travel Association(PATA) and
TAAI (Travel Agents Association of India).
Site Developed & Promoted by Advent InfoSoft Pvt Ltd.