Trekking Tour India
Trekking involves walking uphill and sometimes steeply downhill, 6-7 hours daily with 10kgs on your back. The period of the trek can vary from 1 day to 30 days, depending on the masochistic tendencies of the people involved.
Himalayas are spectacularly beautiful and can quickly stun the senses into submission. So trekking amidst the Himalayas is completely mind blowing. Uttaranchal Himalayas encompasses the major part of Indian Himalayas. Uttaranchal (Garhwal & Kumaon ), harbouring many snow covered peaks above 6,500 meters, is an excellent destination for trekkers. Remained underdeveloped for a long time the area is still in its primitive form and has vast areas of pure wilderness, holding different cultures offering a chance to have a close encounter with outstanding views of greater Himalayan range, alpine meadows, rare high altitude flora & fauna, etc. Trekking in the different valleys of pure wilderness in Uttaranchal offers one to get an insight into the lifestyle of the mountain people, their settlement patterns, customs & costumes and much more.
Major Sites for Trekking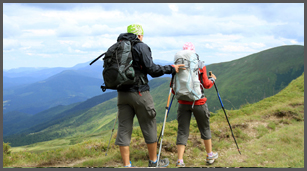 Trekking in Garhwal
Panch Kedar TrekPanch Kedars are the five distinct forms of the Lord Shivas, and are known as Kedarnath (3584 m); Madmaheshwar (3289 m); Tungnath (3810 m); Trekking in UttaranchalRudranath (2134 m). The treks from each temple is fascinating. The valley full of rich flora & fauna and hospitable people is very exciting for the trekkers.
Kedarnath - Vasuki Tal Trek
The trek starts from Gaurikund, where one can have a refreshing bath in the hot water sulphur springs. The trek from Gaurikund to Rambara winds along the river Mandakini forest and across beautiful waterfalls. The trek from Kedarnath to Vasuki Tal is a continuous ascent along a goat track and it offers a panoramic view Of Chaukhamba peaks. The final trek to Vasuki Tal is Downhill for 1 km. At the bottom of this, one can see Rectangular slabs of rocks.
Dodi Tal
Situated at an altitude of 3024 m from sea level, north of Uttarkashi and surrounded by dense woods of oak, pine, deodar and rhododendrons. The amazing lake is full of rare fishes and the Himalayan Golden Trouts. The trek to Dodi Tal commence from Utarkashi to Kalyani and is accessible by motor. Kalyani to Agoda is gradual climb through woods, fields and villages on a mule track. The trek from Agoda to Dodi Tal is steep and through dense forests.
Gangotri Kedarnath Trek
This trek is along the old pilgrim route from Gangotri to Kedarnath. From Gangotri one has to come down to Mala by motor. The actual trek starts from Mala, after crossing the river Bhagirathi. The trek is on equal level upto Sauri-ki-gad and from this point the climb to Belak is gradual. From Belak to Budha Kedar, to is downhill through dense forests full of birks and wildlife. From Budha Kedar to Panwali, it is an uphill climb through terraced fields and scenic villages. The marvellous view of the Garhwal Himalaya is very refreshing. The 'Bugyals' (alpine meadows ) on this trek are most beautiful, specially the Kush-Kalyani and the Panwali Bugyals.
Gangotri-Gaumukh-Nandavan-Tapovan Trek
This trek is a combination of mountain climbing, rock climbing, boulder-hopping and glacier traversing. It passes through orchards of coniferous pine trees at chir-basa and birch at Bhojasa. From Gaumukh to Nandanvan, one traverses along the Gangotri and Chatturangini glaciers. Pitch a camp at the junction of Chatturangini and Bhagirathi Gangotri glaciers. From Nandanvan, view the Shivalinga, Bhagirathi, Sudarshana, Thelu peaks and Kedar Dome. Cross the Gangotri glacier and rocky face before arriving at the lush green meadows of Tapovan, surrounded by many named and unnamed peaks of the Garhwal Himalayas.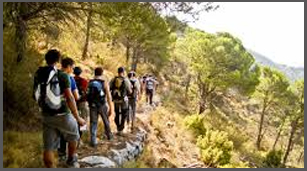 Trekking in Kumaon
Trekking in UttaranchalPithoragarh, in the state of Uttaranchal, borders Nepal in the east and Tibet in the north, and is often called 'miniature Kashmir'. Known for the abundant natural beauty and many fine temple that are important pilgrimage points, Pithoragarh is the base for many exciting treks eg. Pithorgarh-Parwati Lake -Chota Kailash-Sinla Pass Trek.
There are many interesting trekking routes along the Gori valley in the district of Pithoragarh. The trekking routes of Munsyari-Martoli-Milam-Ralam glacier is just fascinating. During treks in the kali, Kuti and Dhauli eastern valley regions, one not only walks along a large portion of the Kailash-Mansarover route, but also gets an insight into the social and cultural life of the local people living in the Chaudans, Byans and Darma valleys.
Bageshwar - Sunderdhunga - Pindari - Kafni Glacier Trek
At the confluence of the rivers Gomti and Saryu 36 kms from Kausani, lies this religious town of Bageshwar. A major pilgrimage centre of the Kumaon Himalayas. Bageshwar is dotted by temples and places of worship and is often equated, by pilgrims, with Varanasi for its divinity. From Bageshwar to Song is a 40 kms motorable road and from Song and there is a trek of 14 kms to Dhakuri, 8 km trek to Khati and 7 km trek to Jatoli from where the route turns to Sunderdhunga Pindari and Kafni.
---