Water Sports Tour
Uttaranchal is a paradise for adventure sports. Activities like river rafting, canoeing, kayaking etc are fast becoming increasingly popular. One can opt for Canoeing, Kayaking or Rafting, depending on the nature of the water.
The Major Sites for Water Sports
Garhwal Himalayas
The icy heights of the Himalayas are the source of some of India's mighty rivers. Fed by innumerous streams they race along Tortuous boulder strewn beds, cutting deep gorges and breaking into silvery white rapids. With the intricate network of Mountain Rivers flowing through a myriad of different colours of rocky gorges, forests, flowers and high mountain villages, the Garhwal and Kumaon hills provide ideal locales for the perfect water adventure.
In Garhwal Himalayas, the sacred river Ganga offers the professional as well as the beginners the thrill of whitewater river rafting. The rivers Alakananda & Bhagirathi are the main tributaries of the Ganga and meet Devprayag, frothing from their racy descent. Their waters are grade IV to V, challenging the expert to survive the thrill.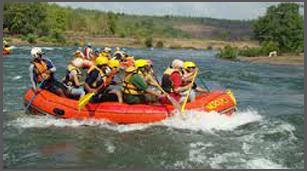 Asan Barrage Water Sports Resort
GMVN has developed a water sports resorts at Asan Barrage. The resort is only 43 km from Dehradun-Chandigarh Shimla highway, with water sports facilities like water skiing, sailing, boating, rowing, kayaking, Water Sports in Uttaranchalcanoeing, etc. There are also two hovercrafts and two power boats. For wildlife lovers there is an added charm during winters, for migratory birds can be sighted in the close by areas.
Nainital Lake Paradise
In the beautiful "Lake district' of Nainital, facilities of boating through yatchs, paddle boats and traditional rowing boats are available. The Nainital Boat house Club exclusively holds the management of yatching in Nainital. In Nainital district, Sat Tal, Bhim Tal, and Naukuchiyatal also have water sport & boating facilities.
Nanaksagar Matta
Nanaksagar in Udhamsingh Nagar of Uttaranchal Hills is a place ideal for water sports. The total area of the reservoir is approximately 18 sq m. The various activities for water spots which can be organised in this reservoir are Water skiing, Yatching, Boating, Canoing, Kyaking, Wet parasailing etc. The place being nearer to the Nainital, Almora, Pithoragarh etc. attracts large number of water sports loving tourists.
---