White Water Rafting Tour
If you are a normal healthy person and without any fear of water, then rafting can be your sport. A river journey is one of the most enjoyable ways to experience the rural areas and natural environments of any country. White water rafting in Uttaranchal has become the modern-day centerpiece of complete vacations that can include a world of activities. The key ingredient, of course, is still the tremendous whitewater that courses through the state's spectacular mountain scenery. Uttaranchal offers one of the broadest array of river experiences available anywhere in the world, from mild to wild with everything in between. The river Ganges cuts against the rocky banks, crash into rocks, crevices and breaking into white water rapids, foaming, swirling, and falling in a thunderous din.
White Water River Rafting in the north Indian state of Uttaranchal is the extreme and never-ending thrills in the untamed rivers. The rivers in the upper Himalayas are among the best in the world for river rafting sports, with many challenges, challenging the body and spirit of the river rafter. Uttaranchal has an array of river rafting regions, which suits both amateurs and professionals.
Major Sites for White Water River Rafting
In Garhwal Himalayas, the sacred river Ganga offers the professional as well as the beginners the thrill of whitewater river rafting. The rivers Alakananda & Bhagirathi are the main tributaries of the Ganga and meet Devprayag, frothing from their racy descent. Their waters are grade IV to V, challenging the expert to survive the thrill.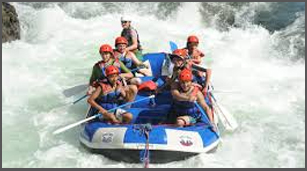 Down river from Devprayag, the Ganga changes into a pool drop river. White Water River Rafting in UttaranchalThis stretch of almost 70-kms is perfect for the beginners, for here the river offers some fine grade III rapids and two grade IV rapids, the 'Wall' at Bysi and the 'Golf Course' 4-kms. Below Shivpuri village; each followed by deep and placid pools. Sandy beaches boundaries the river at intervals, allowing river rafters to pull up alongside. The slopes on either side are dominated by oak, pine, spruce and fir, with the occasional village. Wildlife can be seen at a distance, especially spotted Deer, Monkeys, Leopard, while multi hued butterflies can been seen flying from flower to flower.
Situated amongst the thick forest on the Rishikesh-Badrinath highway at an altitude of 480 m, is the place of the mighty waters of Ganga, which are most ideal for whitewater river rafting. Riding the Ganges is an exciting experience and its this apparent invincible power of this majestic river that has attracted the adventure seekers to the challenging sport of river rafting.
River Rafting Places in Uttaranchal
Ganges River, Garhwal,
Gangotri, Garhwal Himalayas,
Lake Paradise, Nanital,
Asan Barrage
Kudiyala Rafters Club

River Rafting Tips
Rafting training facilities exist in different parts of Uttaranchal. Many tourist agencies and state departments also conduct courses in river rafting. Many tourist agencies and state departments provide rafts, equipment, river side camping items besides all safety precautions and trained guides who make the sport a pleasure.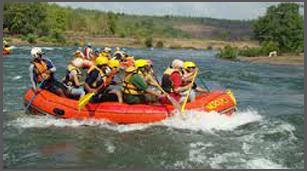 Essentials For River Rafting
Carry dry bags or boxes to keep your small personal items you may bring with you. Be sure to take any necessary prescription medications such as inhalers, bee-sting kits, insulin etc. Don't carry your car keys, wallets, cell phones etc. with you for the rafting trip. Also take along sunscreen, sunglasses with a strap to secure them and a camera. Disposable waterproof cameras are easily available, easy to take along with you and take good quality pictures.
The perfect rafting gear on most rivers during the summertime is a simple swimsuit, nylon shorts, tennis shoes or sandals, and a hat. Spring and autumn rafting trips are the ones that require additional clothing. In any case be sure to dress in layers so that you can easily add or remove articles, as you need. Avoid cotton clothing while rafting, except in summers as cotton takes away the warmth from your body. Wool, polyester fleece and other synthetic materials will keep you warmer and will dry faster than cotton. Many rafting clubs have wetsuits available for rent.
---