Best Of Karnatka & Kerala
RR - 08.B Best Of Karnatka & Kerala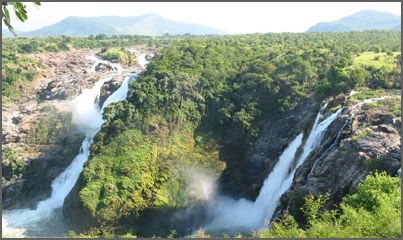 Day 01 - Arrive Bangalore
Assistance and transfer to the hotel.
Day 02 - Bangalore-Nagerhole drive, 200 km
Morning city sightseeing tour of Bangalore.
Bangalore, the capital city of Karnataka is one of the most important metropolis of India. It is a vital centre of science, aeronautics and electronics. Situated 1000 m above sea level, this garden city has pleasant weather round the year. The Lalbagh, one of the finest botanical Gardens of India, Cubbon Park laid in 1864 sprawling across 300 acres, Vidhana Soudha built in 1956 housing The State Legislature and Secretariat are the main attractions.
Afternoon drive to Nagerhole.
Overnight at the hotel.
Day 03 - Nagerhole
The Nagarhole National Park with its green world rich in forests, little streams undulating valleys and fascinating waterfalls. A perfect get-away for nature-lovers. Deriving its name from Kannada, 'Naga' meaning snake and 'hole' referring to streams - Nagarhole is truly a delightful spot, bubbling with the activity of some of the most magnificent animals and trees. Rosewood, teak, sandal, silver oak… are among the trees found here. The animals that are found here - Elephant, Tiger, Panther, Chital, Sambar, Sloth Bear, Jungle Fowl, Patridge, four horned antelope, warblers, spotted deer, mouse deer, pangolin, panther, gaur, giant flying squirrel…
The Park has about 250 species of birds and the Malabar trogan, the Malabar pied hornbill, the great black woodpecker, the Indian pitta and the green imperial pigeon are part of its avian variety.
Day activities will include jeep and elephant safari, coracle ride, nature walk, Camp fire dinner and possibly a cultural programme in the evening.
Day 04 - Nagerhole-Mysore, 80 km
Short drive to Mysore. On arrival, check-in at the hotel.
Afternoon sightseeing tour of Mysore
Mysore, 770 m above sea leavel, this imperial city was the erstwhile capital of the Wodeyars. The legend takes its name from a famous demon called Mahishasur, a great warrior who ruled as a tyrant until he was killed by the goddess Chamundeshwari. Mysore as we see today is most famous for the imposing Royal Palace with a magnificent Durbar Hall, particularly splendid during the Dussehra Festival when the Maharaja's jewellery, studded gold throne (weighing 200 kgs) is on display. Chamundeshwari temple perched on a hilltop is 2000 years old, Nandi Bull half way to the hill is a 4.8 metre monolith. 19 km north-west of Mysore is the KRS Dam and the ornamental Brindavan Gardens. The mustical fountains and colourful lights transform this place into a fairly land in the evenings.
Day 05 - Mysore
Morning excursion to Somnathpur.
Somnathpur, Built in 1268 AD, the temple is known for its Hoysala architecture and is seated on a star shaped base, set on a chiselled plinth and guarded at internals by miniature elephants. The temple wall depicts scenes from Ramayana, Mahabharta and Bhagvata, the three holy religious books of Hindus.
Afternon at leisure.
Day 06 - Mysore-Ooty drive, 155 km
On arrival, check-in at the hotel.
Afternoon city sightseeing tour.
Ooty, an integral part of the great plateau occupying the junction of the Eastern and Western Ghats. Located at 2240m above sea level, Ooty is the headquarters of the Nilgris district. Apart from coffee and tea plantations, trees like confiers, eucalyptus, pine and the wattle dot the hillside in Ooty and its environ. The places of interest in Ootyinclude Botanical Gardens where "summer Festival" is held each each during the month of May: the artificial lake and Dodabetta Peak which is the highest point in the district at a height of 2623m.
Day 07 - Ooty-Cochin drive, 280 km
Drive to Cochin and on arrival, check-in at the hotel.
Rest of the day at leisure.
Day 08 - Cochin
Morning city sightseeing tour.
Cochin, Kerala's commercial centre, it has a fine natural harbour. Cochin(Kochi) gateway for Kerala is famous for Mattanchery Palace, St. Francis Church, Wellington Island, Bolghatty Island, Chinese Fishing nets and Jewish Synagogue. Cruising on the back-waters provides glimpses of the rural life, fine view of the harbour and three islands.
In the evening witness performance of Kathakali dance show in a theatre.
Day 09 - Cochin/Periyar drive, 185 km
Drive to Periyar via Kottayam, dotted with old churches, tea/coffee and rubber plantation.
Arrive Periyar and check-in at the hotel.
Afternoon boat cruise on Lake Periyar.
Periyar, spread over an area of 777 sq km, this sanctuary has about 35 tigers and leopards. However, sighting a tiger in Periyar is a fortune for one out of thousand. The park encompasses a 26 sq km artificial lake and is the home of sambars, wild boars, elephants and antelopes which can be occasionally seen on the banks of the river during a boat cruise. Periyar, otherwise,
blessed by Nature has enormous tea, coffee, pepper and cardamom plantations and is lush green.
Day 10 - Periyar/Kumarakom drive, 135 km
Drive to Kumaraom and on arrival, check-in at the hotel. Rest of the day free. Evening sunset cruise organized by the hotel.
Overnight at the hotel.
Day 11 - Kumarakom/Alleppey
Arund Noon time, board Kerala Houseboat "Kettuvalam"
Embark Kerala Houseboat "Kettuvalam" at Kumarakom. Head towards Munnattumugham village, thru interior backwaters. Continue to Champakulam, earlier named as Kalloorkad, the ancient trade centre of backwaters. Visit famous St, Marys Forance Church that is believed as blessed by Str. Francis in 42 AD. The murla paintings by vegetable oil is an exciting panoramic vision. Visit the famous Champakulam snake boat construction yard.
Night stay at Champakulam village.
Day 12 - Alleppey-Kovalam drive
After breakfast, leisurely cruise towards Alleppey finishing point jetty.
Disembark at 0930 hours.
Drive to Kovalam and check-in at Beach Resort.
Day 13 & 14 - In Kovalam At leisure.
Day 15 - Kovalam-Trivandrum-dep Transfer to airport for onward flight
---
---